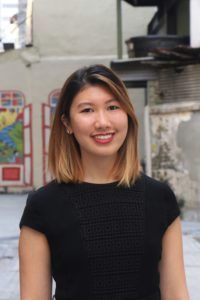 Yan Teh loves storytelling. She delights in translating complex issues into stories that excite people. Employing both written and spoken words to get her message across, Yan takes on copywriting, long-form articles, and in-person pitches with equal enthusiasm.
At Think City, Yan humanises urban regeneration by demystifying jargon-heavy topics like mobility (article) and placemaking (copywriting). Not content with merely talking about the issues, Yan created a civic empowerment workshop called Citymaker Labs to put practical problem-solving tools in the hands of ordinary citizens. Yan also represents Think City at industry events, where she pursues new avenues for collaboration and funding.
Prior to joining Think City, Yan wrote a five-part article series, Cities 101, highlighting the effects of cities' design and management on their inhabitants. Yan also helmed marketing and partnerships for the Singapore Urban Design Festival in the lead-up to the inaugural 2018 edition.
Yan graduated from Durham University (UK) with a BA (Hons) in Business and Music. At postgraduate level, she studied law.
You can contact Yan here. Her writing portfolio is available here.